World University Floorball Championships about to start!
The World University Championships are starting today! In Lodz, Poland, 13 teams from 8 countries will battle for the title. The streams are broadcasted for free on IFF's Youtube.
Teams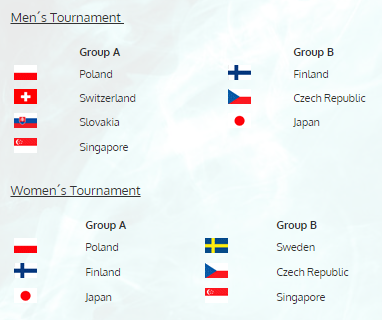 Schedule
Tuesday 26 June
11.00 Slovakia – Singapore M
13.00 Japan – Poland W
14.00 Finland – Czech Republic M
17.00 Singapore – Sweden W
Wednesday 27 June
11.00 Czech Republic – Singapore W
11.00 Slovakia – Singapore M
14.00 Finland – Japan W
14.00 Finland – Czech Republic M
17.00 Switzerland – Poland M

Thursday 28 June
11.00 Japan – Finland W
11.00 Singapore – Switzerland M
11.00 Czech Republic – Japan M
14.00 Poland – Finland W
14.00 Sweden – Czech Republic W
17.00 Poland – Slovakia M
Friday 29 June
10.00 Quarterfinals 1 W
10.00 Quarterfinals 2 W
13.00 Battle for 5th match 1 M
13.00 Semifinals 1 M
16.00 Semifinals 2 M
19.00 Semifinal 1 W
19.00 Semifinal 2 W
Saturday 30 June
08.30 Battle for 5th M
09.00 Battle for Bronze W
11.15 Battle for 5th match W
12.00 Battle for Bronze M
14.00 Battle for 5th match 3 M
15.00 Finals W
18.00 Finals M
Join the Floorball Worldwide Facebook Group
15 Unstoppable Slapshots of SSL 2017/18
15 extremely powerful shots from the last season in the Swedish Super League. Enjoy! Music Jim Yosef – Throwback Join the Floorball.
Top 10: Top scorers of the Czech Open
The Czech Open is over with Falun as winner. Have you seen the highlights of the final already? Below, the ten top.
Watch the Finals of the Czech Open 2018! (Pixbo – Falun)
We have reached the final day of the Czech Open and that means today the winner of the Elite Male series will.
Czech Open Day 3 Schedule
The playoffs have started and today the teams will decide who will play in the finals. All Swedish and Finnish teams have.
Czech Open Day 2 Schedule
After yesterday's intense start to Czech Open 2018 with no less than 16 games, only half as many will be played on.
Founded by lovers of the sport, FloorballToday informs, inspires and entertains. We bring you cool videos, lifestyle reports, latest results and floorball news you can't miss out on. Come back regularly to see for yourself why we are world's fastest growing floorball medium!
Popular posts
Tribute: Patrik Åman's Best Saves
2 years ago, one of the greatest goalkeepers in floorball decided to end his.
VIDEO: Mika Kohonen's Best Penalties
Rumour has it Mika Kohonen, one of the greatest floorball player of all time.
VIDEO: Summer stop? Rikke Hansen shows how to train on your own!
All floorball players are waiting for the next season to start – but here's.
Highlights: Pixbo – Falun 1-4 (Czech Open 2018 Final)
All 5 goals from the Czech Open 2018 final between Swedish Super League teams.
The 3 Swedish stars that will play in Switzerland next year
There is an active connection between Switzerland and Sweden when it comes to player.
Copyright© 2015-2018 FloorballMedia Global Handelsbolag