Ireland vs Denmark – Highlights
Alternative player
Stadium: Aviva Stadium (Dublin)
Referee: S. Marciniak
5 Ball Possession Shots off target Shots on target
RELATED ARTICLESMORE FROM AUTHOR
Croatia vs Denmark – Highlights & Full Match
Denmark vs France – Highlights & Full Match
Denmark vs Australia – Highlights & Full Match
3 COMMENTS
Are you going to upload the full match mate?
Love the site! Good work! Thanks for this!
It would be nice though if at least a few seconds of the final whistle was shown. In these important matches, it's also nice to see highlights of the victory celebrations, and hear the commentator's conclusive words.
Cutting left and right, ball at his feet
Signed a new deal with Spurs, no easy feat
First name Christian, last name Eriksen
Long shots and dribbling with that vision
Magician, maestro, simply of Denmark,
One free-kick upper 90, boom there's the spark!
LEAVE A REPLY Cancel reply
This site uses Akismet to reduce spam. Learn how your comment data is processed.
World Cup 2018: Denmark v Republic of Ireland
Share this with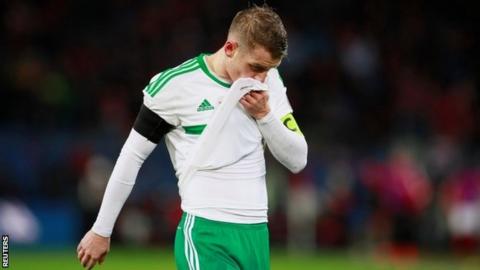 Two European nations. One spot remaining at next summer's World Cup finals in Russia. Everything to play for.
Northern Ireland were the first team to go out in the play-offs, losing 1-0 to Switzerland on aggregate.
The Swiss were joined at next summer's finals by Croatia, who followed up their 4-1 win over Greece in the first leg with a goalless draw in Piraeus in the second.
Four-time world champions Italy missed out for the first time since 1958, losing 1-0 on aggregate to Sweden after a goalless draw in the second leg in Milan.
The Republic of Ireland drew 0-0 with Denmark in the first leg in Copenhagen and will find out on Tuesday if they succeed in reaching a first World Cup finals since 2002.
Denmark v Republic of Ireland
First leg: Denmark 0-0 Republic of Ireland, Copenhagen
Second leg: Tuesday, 14 November (19:45 GMT), Dublin
The Republic of Ireland may have qualified for back-to-back European Championships, but have not featured on the biggest stage of all since a buoyant showing at the 2002 World Cup.
Their manager Martin O'Neill says his side have it "all to play for" in Dublin on Tuesday after a 0-0 draw in the first leg against Denmark.
The Republic of Ireland had just 28% of possession in Copenhagen but were well organised and disciplined as they frustrated the home side.
"We're still in the tie," O'Neill said. "We'll have to win a game and we might have to score a couple because Denmark are capable of scoring."
Denmark, who last qualified in 2010, finished second behind Poland in their qualifying group.
Northern Ireland 0-1 Switzerland
First leg: Northern Ireland 0-1 Switzerland, Belfast
Second leg: Switzerland 0-0 Northern Ireland, Basel
Northern Ireland fell just short in their World Cup play-off against Switzerland, who had won nine of their 10 group games.
Michael O'Neill's side, who were targeting back-to-back tournament appearances after reaching the last 16 at Euro 2016, fell behind in the first leg when Corry Evans was adjudged to have handled in the area, allowing Ricardo Rodriguez to score the penalty.
Jonny Evans almost forced extra time right at the end of their second leg in Basel but Rodriguez cleared the ball off the line.
Croatia 4-1 Greece
First leg: Croatia 4-1 Greece, Zagreb
Second leg: Greece 0-0 Croatia, Piraeus
Croatia maintained their 100% record in play-off ties, winning their fifth comfortably against Greece.
The tie was all but over after the first leg thanks to an emphatic 4-1 win in what was only coach Zlatko Dalic's second game in charge.
The team ranked 18th in the world took advantage of some slack Greek defending to take a 2-0 lead through a Luka Modric penalty and Nikola Kalinic's tap-in. Sokratis Papastathopoulos headed a goal back but Ivan Perisic headed Croatia's third before half-time before Andrej Kramaric tapped in after a botched backpass.
Greece huffed and puffed but never properly threatened their opponent in a dire second leg.
Sweden 1-0 Italy
First leg: Sweden 1-0 Italy, Stockholm
Second leg: Italy 0-0 Sweden, Milan
A World Cup finals without four-time winners Italy, whose only failure to qualify came in 1958, will be bewildering for many football fans.
The Swedes won the first leg 1-0 at the Friends Arena, the only goal coming when Jakob Johansson drilled home from 20 yards via a Daniele de Rossi deflection. It proved to be enough as the Azzurri failed to make the breakthrough despite dominating the second leg.
Which European nations had already qualified?
Five-time winners Brazil have also qualified, along with Argentina, Colombia, Costa Rica, Egypt, Iran, Japan, Mexico, Morocco, Nigeria, Panama, Saudi Arabia, Senegal, South Korea, Tunisia and Uruguay.
Who else can still qualify?
The tournament will consist of 32 teams, with hosts Russia joined by 31 qualifiers from around the globe.
We now know 29 of the nations who will compete next summer, with one European play-off remaining.
That leaves two more spots to be decided:
Peru or New Zealand (South America/Oceania play-off)
Honduras or Australia (Concacaf/Asia play-off)
Road to Russia: The key dates
12-14 November: Play-off second legs
1 December: Groups are drawn
14 June – 15 July 2018: World Cup
Follow Match of the Day on Instagram for the best photos from the world of football.
Share this with
Find out more
Match of the Day Facebook
Match of the Day Twitter
Top Stories
EFL – Hernandez levels for Leeds at Swansea; QPR lose 3-0
Live
From the section Football
England on verge of heavy loss despite Buttler's maiden Test century
21 Aug
From the section Cricket
Police chief's Hillsborough charges dropped
21 Aug
From the section BBC News
Related to this story
World Cup 2018 – who has qualified?
21 Nov
From the section Football
Read more on World Cup 2018 – which 32 teams have qualified for Russia?
Also in Sport
The English boss who couldn't get a job in England
World sport: 10 photos we liked this week
These two are in, but who else makes Garth Crooks' team of the week?
Watch: Scotland striker Russell makes young fan's day
'Can't cope!' Silva's baby is City mascot
45 minutes, 0 completed passes – a day to forget for Kenedy
Norwich paint away dressing room pink
From 'cool selfies' to breaking records – the British racer beating her hero
Download and listen to the Football Daily podcast
Get running with the Couch to 5K app
Football notifications, social media and more
Get latest scores and headlines sent straight to your phone, sign-up to our newsletter and learn where to find us on online.
Today's football gossip
The latest rumours and stories from around the world of football.
Phil McNulty
Analysis and opinion from our chief football writer.
How to get into Football
How to get into football – the most popular sport in the world, with clubs and facilities throughout the UK.
Republic of Ireland 1 Denmark 5: Sensational Christian Eriksen hat-trick ends Irish World Cup dream
Follow the author of this article
Follow the topics within this article
T he Republic of Ireland have put their heart and soul into this World Cup qualification campaign, but when it mattered most they were short of the one thing that really matters – quality.
That was served up on a silver service for Denmark by Tottenham Hotspur's Christian Eriksen, who scored a magnificent hat-trick, stroking two shots into the net like he was knocking balls into an empty goal at the end of a training session, before smashing in a third.
Ireland were forced to bend the knee in the presence of his brilliance. Denmark had one world-class player, Ireland had none. It can make small margins look like a gulf in class.
Ireland were crushed, but the suggestion they had been humiliated at the end of a campaign in which they were fourth seeds in their group and still finished second, drew an angry response from manager Martin O'Neill, who walked out of a post-match television interview.
"We were well beaten, no question about that," said O'Neill. "We were made to pay for some sloppy defending, two really poor goals to concede and when we tried to chase the game, we were punished.
"But we were beaten in a play-off. We have fought tooth and nail to get here, so the sense of disappointment is huge. But we have played 24 competitive games and lost four. This is one of them.
"We were beaten by a side that was better than us and has a world-class player in the team, who was absolutely magnificent. Eriksen is top class and he showed it."
E riksen now belongs in an elite group of players in the modern era, alongside Gareth Bale, Cristiano Ronaldo and Zlatan Ibrahimovic, who have carried their national teams to new heights, defining the big games with the force of their ­individual talent.
In the end, Ireland gambled and lost. O'Neill tried something different and it did not work. Having smothered Denmark in the first leg in Copenhagen, he tried to attack them. He might regret it now, but in truth, nothing was likely to stand in Eriksen's way. He and Denmark fully deserve to be at the World Cup next year.
By the time Ireland play in one, it will have been at least 20 years since their last appearance. An entire generation will have grown up without seeing their country play in the biggest tournament of all.
T hen again, for all of the sense of entitlement in Irish football, the strange assumption they should be playing on the biggest stage, World Cups tend to take place without them. They have only made three, the last of which was in 2002, when they had a squad packed with ­Premier League players. They do not have that luxury anymore, but this was still a huge let down, the sort of anti-climax that turns a party into a wake. They have felt like this before. This was the fourth World Cup play-off they have lost, but this had been their chance to erase those bitter memories to the point of deletion.
It had the perfect opening paragraph, Shane Duffy heading Ireland in front from Robbie Brady's free-kick. Ireland had other chances, a flick from Daryl Murphy almost turned in Cyrus Christie's cross before James McClean, after a lovely move down the left, was played in behind by Robbie Brady. But, from a tricky angle, he dragged his effort wide of the far post.
M inutes later, Denmark were level. Harry Arter was beaten too easily from a short corner by Pione Sisto and, although Andreas Christensen sliced his shot against a post, it rebounded in off Christie.
A setback turned into a disaster when Stephen Ward was robbed by Yussuf Poulsen. The ball was moved to Eriksen and Denmark's star player found the net via the underside of the crossbar.
N eeding two goals in the second half, O'Neill went for broke and ended up broken. Off went Arter and David Meyler – on came Aiden McGeady and Wes Hoolahan. Caution was no longer a viable policy, but he was sending on two attacking players from the Championship, not the Premier League.
E riksen made full use of the space, curling in a second goal and punishing some poor control from Ward to grab a third. Nicklas Bendtner added a fifth with a penalty.
"Eriksen is one of the best players in Europe," said Denmark coach Age Hareide. "We have seen that against Real Madrid in the Champions League and tonight. He is in the top 10 players in the world, he has this ability to score goals, to make assists and find space, he is a special player. As soon as Ireland gave him space, he hurt them."
Full time – Republic of Ireland 1-5 Denmark
A nd that's it! Denmark go to Russia 2018, the Irish will be left at home.
T wo minutes to be added on.
GOOOOOAAL!! Bendtner makes it five from the spot
B endtner steps up, sends Randolph the wrong way, and makes it 5-1.
Penalty to Ireland!
D enmark break with Bendnter, and McClean is charging back after him, head down – he really doesn't want another Denmark goal going in. He does well to catch play up, but then, in the most predictable thing ever to happen EVER, he throws himself at the ball and cuts Bentdner down to concede a penalty. What an utterly stupid decision.
M cClean comes in off the right flank and fires at goal from 30 yards and it flies – unsurprisingly – miles over the bar.
N icklas Bendtner is on. Denmark's very own Zlatan Ibrahimovic replaces Jorgensen for the final 6 minutes.
E riksen wants more – he's released down the right and charges after it but he can only win a corner.
A decent chance for Long after a straight ball forward from Hoolahan sets him free, but under pressure from Kjaer and Bjelland he can only scoop his shot over the bar.
GOOOOOOAAALL! Eriksen hat-trick! It's 3-1 to Denmark
I t's a horror show for Ward, but it's yet more sheer class from Christian Eriksen, who has his treble.
Cornelius lobs a hopeful ball into the Ireland box, Ward leans back and only succeeds in stopping the ball inside his own box – and Eriksen is quickest to react.
T he Spurs man comes steaming in and slams into the top corner for his hat-trick.
O 'Neill responds: it's all or nothing now. Forward Shane Long comes on for centre-back Ciaran Clark. This could get ugly.
A nother change for Denmark. Former Cardiff man Cornelius replaces Poulsen, who got that knock a short while ago.
W ard gets forward well and drinks a decent cross onto McClean's head but he fires his effort just over. More than half a chance, that. Ireland need a goal soon.
Eriksen or Coutinho? I know who I'd choose
If Christian Eriksen was Brazilian someone would be bidding £115m.
— Chris Bascombe (@_ChrisBascombe) November 14, 2017
GOOOOOOAAAAAALL. Ireland 1-3 Denmark (Eriksen)
T hat's it. Christian Eriksen is a class apart from every other player on the pitch, and he has shown it for a second time with another wonderful goal.
He has been helped by Martin O'Neill's to play this second half without a defensive midfielder, picking up positions between the lines and he does so again he to extraordinary effect. Listo finds him on the edge of the box after a patient build-up from the Danes, and Eriksen shifts onto his left foot and just brushes a lovely left-footed effort into the corner with Randolph again helpless. Tie over?
C hristie dances past three challenges in an attacking position on the right, but his drilled ball across goal is cleared. Then a combination of McClean and Ward absolutely clatter Poulsen, who needs medical attention.
Shortly after the Denmark fans start greeting each pass with an 'Ole!'. Too early for that, lads. Too early.
A decent break from Ireland with McClean fouled but a good advantage played, and they have numbers piling forwards, but twice in succession – first Christie, then McGeady – poor crosses let them down. And the second launches a Denmark attack.
Duffy flies into a challenge and misses completely, and suddenly Eriksen is away down the left. Pace isn't his greatest asset, and he is caught by Clark, but not before getting a decent shot off that Randolph palms away. Ireland got away with that.
McGeady's feather-weak cross there somehow sets up a Danish attack.
Have to say that was a baffling substitution.
— Miguel Delaney (@MiguelDelaney) November 14, 2017
H oolahan does well to win a corner, which Duffy heads at goal but it's a simple save for Schmeichel.
D enmark have started this half really well, and are completely dominating possession. The Irish changes have yet to make any difference so far. Sisto stings the fingers of Randolph with a well struck effort from the edge of the box.
A change for Denmark: Peter Ankersen replaces Styger Larsen – a defensive move – could that be five at the back now?
A decent effort from Sisto, who darts in off the left and fires at goal but it is blazed just high and just wide.
P oulsen wins a high ball forward and flicks it on to Jorgensen. He finds Eriksen, who floats a cross into the centre but Ward does really well to toe-end it away for a corner – which comes to nothing.
H oolahan slots in behind Murphy, McGeady goes out to the right. Hendrick and Brady in the middle of the park for the Irish.
Double sub for Ireland!
O 'Neill going for it here! Arter and Meyler are replaced by McGeady and Hoolahan – a really attacking move. Huge 45 minutes coming up. And we're off.
W ell, what a half that was, and I doubt many expected that kind of entertainment after the goalless first leg. After going in front, the Republic of Ireland weren't really sure how to approach the rest of the game. Denmark took advantage, swarming forward in numbers as they went after an equaliser, and Ireland crumbled in three minutes that may decide their World Cup fate. It's all to play for but Ireland have an awful lot to do in the second half. Here's the half in graphical form:
Shots
P ossession
A verage position
T he ball breaks for Brady in a central position with space to move into. The crowd sense an opportunity. Ward goes charging outside Brady down the left and Brady slides a pass into his team-mates path, but Christensen does really well to get back first and get a toe in, meaning Ward clatters into him and he wins a free-kick.
This could stick
Irish Proverb: "That Goal Was Too Early"
M cClean goes down far, far too easily in the box under the faintest of nudges from Christensen, and he's desperate for a penalty but the referee right waves play away.
P eople say his club, Tottenham, are a one-man team. His country might be even more reliant on one man.
12 – Christian Eriksen has been directly involved in 12 goals in the World Cup 2018 qualification process (nine goals, three assists), eight more than any other Denmark player. Leader.
I reland need to get a foothold back in this game. Denmark are looking confident and in full control, knowing Ireland now need two goals with away goals counting double. There will be no extra time, by the way.
GOOOOOOAAAALLL. Ireland 1-2 Denmark (Erisken)
O h dear, Ireland – the game's been turned around in two minutes and Denmark are in front. Robbie Brady tries to take on Poulsen and has possession nicked from him. Poulsen finds Jorgensen, who returns the ball back out to the right where Poulsen has caught up.
He reverses back to Jorgensen, who sweeps it out left to Christian Eriksen, and he thunders the ball off the underside of the bar past a helpless Randolph.
GOOOOOOOOAAAALLLL. Ireland 1-1 Denmark (Christie own goal)
S isto had a shot from distance deflected over, Eriksen takes the corner short to Sisto, who looks like he's let the chance go by opting not to return the ball to Eriksen. But Sisto stands Arter up, slips the ball through his legs and crosses low and hard.
Christensen swings a leg at it and it bounces towards goal – Christie is on the back post but he can't sort his legs out quickly enough, and the ball cannons off the upright, onto the right-back and into the net. So unlucky for him – but Denmark are level.
I reland seeing much less of the ball, and playing a much more direct game – but so far, it's working. Here are the passes from the two teams:
W hat a match this is – James McClean runs onto Brady's through ball after good work with his back to goal by Daryl Murphy. The West Brom winger is clean through but the angle is getting tighter and tighter. He eventually fires off and hits it well enough but just drags it wide.
S o nearly 2-0 to Ireland! And half the ground thought it was in, too! Murphy gets across his man to flick Christie's whipped cross from the right towards goal with the outside of his left boot, but it whistles JUST past Schmeichel's left post.
I reland fire a warning on the break, McClean getting clear down the left and squaring for Murphy, but he tries to squirm away from the defender rather than set it back for his arriving team-mate and the move falls apart.
A nd another big save! This time Eriksen finds Sisto on the left and his volleyed effort is well hit but straight at the keeper. Ireland retain their lead but pressure is building.
W hat an unbelievable save from Randolph! Denmark get Eriksen on the ball for the first time tonight and they construct a move nicely for the first time, too. The ball is worked left and then right, eventually pulled back by Christensen to the edge of the box for Kvist to slam low and hard towards the bottom left corner – but Randolph palms it away.
I reland will be as surprised as anyone that they got an early goal, and their whole gameplan will have to change now – how do they approach the final 75 minutes? You can't invite too much pressure but equally there's no need to go too gung ho for another goal. Decisions, decisions.
W hat a ball that is and that is a decent chance for Denmark. Kjaer launches an angled ball from the right-back position towards Larsen who has caught Christie unawares on the opposite flank. The ball comes down out of the sky and it is a really difficult chance but he still should do better. He gets it all wrong and bundles the ball harmlessly wide.
D enmark go straight up the other end with a set-piece of their own, but Ireland hold firm and clear.
GOOOOOOAAAAAALLL. Ireland 1-0 Denmark (Duffy)
T he Republic win a free-kick for a push just next to the centre circle and they take an age over it, sending their centre-backs up and loading the box. The set-piece is eventually launched forward by Brady, long and straight and direct. Jorgensen gets a toe to it but can only spoon it up in the air. It isn't anyhinh like properly cleared, and Duffy out-jumps Schmeichel to nod the ball home! Ireland are in front!
T wo heavy challenges, first from Brady on Eriksen and then from Meyler on Sisto, are penalised, much to the annoyance of the home fans. The ref isn't going to let those slide.
P ositive start from Larsen down the left but Christie stops him in his tracks, and concedes a throw-in. Kvist picks up where Denmark left off by launching the throw into the box. Ireland clear.
10 Irish players were in danger of missing this game if they were booked in the first leg
A ll 10 escaped a yellow, and there is a clean slate tonight. This could be fiery.
We're under way in Dublin.
The Aviva is rocking for the national anthems
Ireland's competitive home record under O'Neill
P retty impressive reading, right? Can Denmark trouble the Irish?
Martin O'Neill talks
"We are here to win this match. Of course, there are risks that come with being more expansive.
"Are we preparing for 120 minutes? First and foremost in the players' minds is: we have to win the game
"The players are ready."
A closer look at those teams
D avid Meyler is back after missing the first leg through suspension, and he captains the Republic tonight. Meanwhile, Bristol City's Callum O'Dowda drops to the bench, replaced on the right by James McClean who switches from the left flank. Robbie Brady will move out to the left after playing centrally in midweek.
D enmark bring RB Leipzig's Yussuf Poulsen in on the flank, with Andreas Cornelius dropping to the bench, while Chelsea's Andreas Christensen also comes back in.
The teams are in
I reland: Randolph; Christie, Clark, Duffy, Ward; Arter, Meyler, Hendrick, Brady, McClean; Murphy
Denmark: Schmeichel; Christensen, Kjaer, Bjelland, Larsen; Eriksen, Kvist, Delaney; Poulsen, Jorgensen, Sisto
Martin O'Neill sends out a word of warning
M artin O'Neill has warned Denmark not to be taken in by the Republic of Ireland's paltry World Cup goals tally.
The pair meet in a decisive play-off second leg encounter at the Aviva Stadium on Tuesday evening with Ireland having managed to find the back of the net on only four occasions in their Group D qualifiers in Dublin.
Indeed, they managed only 12 goals in total during the entire campaign and could not add to it in Saturday evening's 0-0 draw in Copenhagen.
O'Neill is acutely aware of the chasm 68-goal Robbie Keane left on his retirement from international football, but remains confident his team can find a way to beat the Danes.
He said: "You have to treat the game on its own merits. You can't look at the past now and say: 'Well, we didn't do this and we didn't do that'.
"Some of the games we might have scored more goals in, but we're not prolific. Really top quality Republic of Ireland sides have not been able to score goals.
"You have Robbie Keane out on his own and the next person to him is someone who might have forced a corner or something like that. Seriously, that is the case.
"There have been great players who have played for the Republic of Ireland in their history and they have never been prolific.
"We have to find the net and we think we're capable of doing it. We find everything tough, it's the nature of us. We don't have all the skills that maybe other nations have.
"We have to find it in different manners. I've said that umpteen times, we have to find it. So far, the lads have come up big in matches and tomorrow is a massive game and we're hoping to do it again."
Related Topics
Follow Telegraph Football
Follow Telegraph Football
Sport galleries
Gallery: Tottenham's new White Hart Lane stadium: redevelopment in pictures
Gallery: Tottenham's new stadium: White Hart Lane redevelopment in pictures
Gallery: Premier League kits 2018/19: Every confirmed strip for the new campaign
Football latest
Paul Pogba's agent Mino Raiola claims Paul Scholes 'wouldn't recognise a leader if he was in front of Sir Winston Churchill'
How Virgil van Dijk helped Liverpool transform error-prone, leaky defence into the league's best
Comment: Norwich painting away dressing room pink is a throwback to John Beck, a dark arts master way ahead of his time
Mohamed Salah should have told Michael Oliver penalty decision was wrong, says Luka Milivojevic
Phil Neville opts for experience for England's crucial World Cup qualifier against Wales
Comment: Man Utd crisis is of Ed Woodward's making – he knew what he was getting with Jose Mourinho and should have backed him in summer
In praise of the magnificent and evergreen James Milner
Why can you now watch every midweek Championship match live this season?
Furious Roy Hodgson says 'game has changed beyond recognition' after controversial penalty call in Liverpool defeat
Jose Mourinho facing growing disillusion in Man Utd dressing room as board move to appoint technical director
Ivan Gazidis torn by AC Milan's big money offer to leave Arsenal
'Liverpool is going to be a lot more intense than Man Utd' says Brighton's Leon Balogun
Vincent Kompany talks up title chances as Benjamin Mendy agrees to stop using his phone so much
Naby Keita's relentless, all-action performance a one-man embodiment of Liverpool's breathless style
James Milner penalty and Sadio Mane late breakaway enough for Liverpool against spirited Crystal Palace
Chelsea want Ruben Loftus-Cheek to fight for first team place as midfielder considers another loan move
Former Burnley and Northern Ireland player Jimmy McIlroy dies aged 86
Premier League clubs trial cryptocurrency as experts predict bitcoins will replace sterling in transfer industry
Loris Karius ends turbulent Liverpool time with two-year loan move to Besiktas
Stoke preparing to make £6.5million bid for Brentford midfielder Ryan Woods
Crystal Palace vs Liverpool, Premier League 2018-19: What time is kick-off, what TV channel is it on and what is our prediction?
© Telegraph Media Group Limited 2018
We've noticed you're adblocking.
We rely on advertising to help fund our award-winning journalism.
We urge you to turn off your ad blocker for The Telegraph website so that you can continue to access our quality content in the future.
Republic of Ireland vs Denmark | Live Stream HD