11th World University Equestrian Championship
Cary Hundley '18 Represents Goucher at Equestrian Championship in Sweden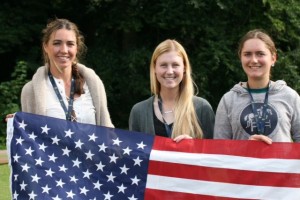 Cary Hundley '18 is representing Goucher at the 11th World University Equestrian Championship from June 28-July 2. The championship is overseen by the International University Sports Federation (FISU), which organizes competitions for student-athletes from around the world. The finals will take place this Saturday.
Hundley, a biology major from Ellicott City, MD, will participate in both the Dressage and Show Jumping events. She is the only Goucher student participating, and one of three from the U.S. The trip is Hundley's first time in Europe and first time traveling alone internationally. She was previously selected to take part in the Emerging Athletes Program National Training Session held last November in Westerville, Ohio, one of 16 riders to receive the honor.
"We are so proud of Cary for representing Goucher College, its equestrian program, and the U.S.A. on the international stage," said Jennifer Bunty, equestrian director. "It is such a remarkable opportunity to bring Goucher's excellence in equestrian and global sensibility together. FISU hosts world championships in a wide variety of sports, and we are excited to have a representative in the equestrian event."
The athletes draw from horses that were donated for the competition, according to Hundley. They get five minutes to warm up the horse before competing. In the first round for each event, three different students ride each horse, and the person deemed best rider moves on to the next round.
A livestream of the event can be found here.